EPC Practitioner Skills Programme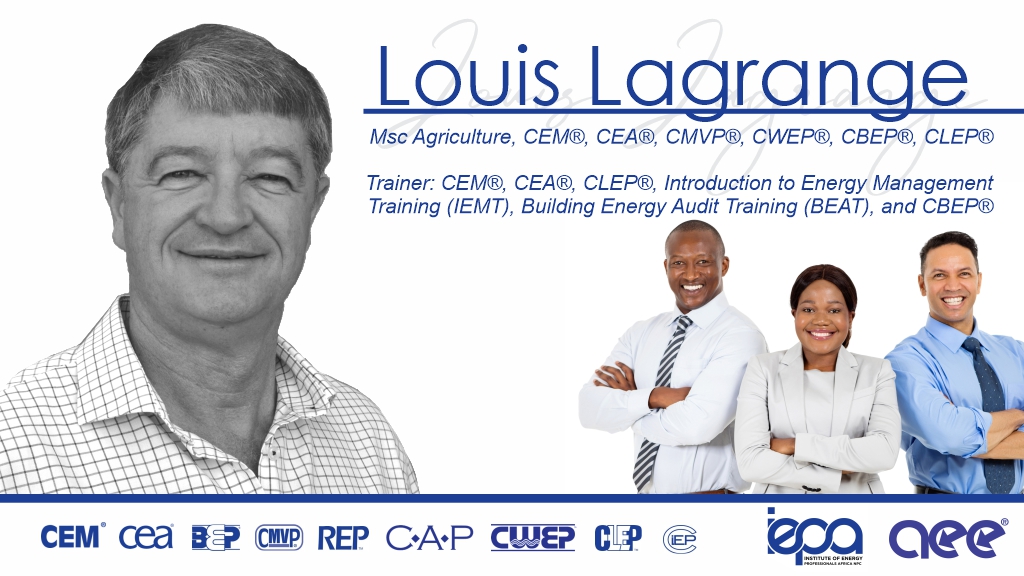 Trainer: Introduction and Energy Modules
Mr Louis Lagrange
MSc Agriculture, CEM®, CEA®, CMVP®, CWEP®, CBEP®, CLEP®
AEE® Trainer: CEM®, CEA®, CBEP®, CLEP®,
IEPA Trainer: Introduction to Energy Management Training (IEMT), Building Energy Audit Training (BEAT) 
Louis holds a Masters degree in Engineering from the University of Pretoria, with over 30 years of experience in energy related fields and has focused significantly on Strategic and Scenario Planning, Energy Efficiency, Energy Optimisation and Energy Management.
Louis has developed the highly acclaimed Fundamentals of Energy Management Training (FEMT) course and has now redeveloped it into the Introduction to Energy Management Training (IEMT), providing two critical skills, namely (i) for attending company managers and financial officers to work aligned with technical energy managers, and (ii) practical fundamental technical skills for engineers venturing into the energy industry.
Louis has exceptional communication and presentation skills and holds a Toastmasters International Advanced Bronze status.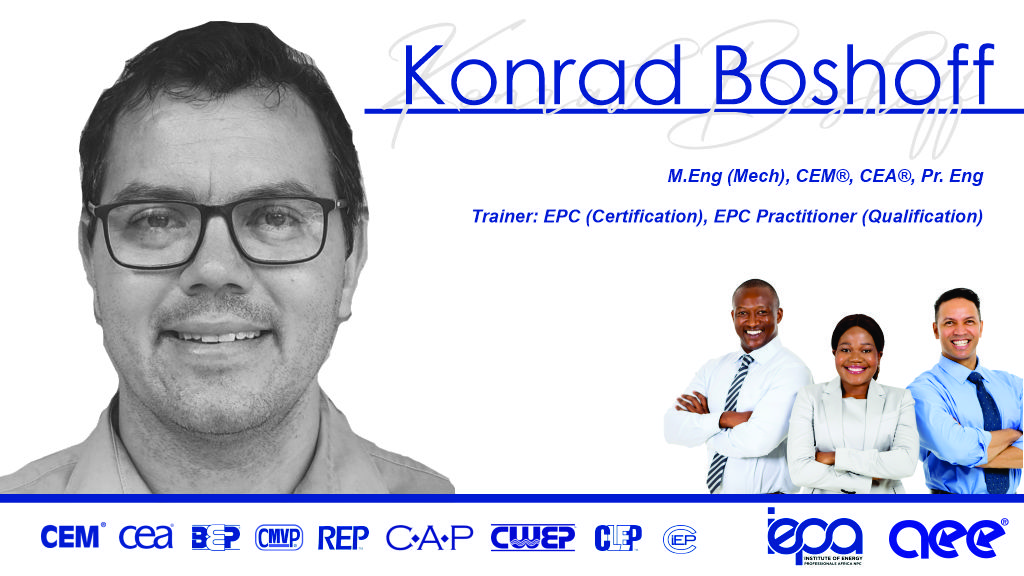 Trainer: EPC for Buildings Module 5
Konrad Boshoff
B. Eng Mechanical, M. Eng Mechanical CEM®, CEA®, REP®, CWEP®, GCC
Konrad is a qualified professional mechanical engineer and founder of Freemotion. Previously serving as head of a strategic energy and motion research division in Transnet Engineering.
Attaining professional status in 2015, he completed his M. Eng trough NWU in 2016 (Cum Laude) in Energy Management on rollingstock, also successfully completing his GCC (Factories), as well as achieving top student status in CEM and CEA with a 92% average.
He has experience in various energy audits, from office buildings, manufacturing and steel fabrication facilities, to foundries and has assisted in the adoption of SANS 50001 in his organisation.
In addition, he is leading energy strategy on development of hybrid power systems for mobile and stationary applications. He is currently enrolled for PhD in Electrical Engineering through Stellenbosch University.
EPC Practitioner and CEA internship
This is an Energy Water Sector Education and Training Authority (EWSETA), South African National Energy Development Institute (SANEDI), and Institute of Energy Professionals Africa NPC (IEPA) initiative with the support of the Association of Energy Engineers (AEE) and The Deutsche Gesellschaft für Internationale Zusammenarbeit GmbH (GIZ) in partnership with the AEE Chapter, the South African Energy Efficiency Confederation (SAEEC), and its dedicated committee for ESCOs the Energy Services Companies Association of South Africa (EASA), and the Association for Renewable Energy Practitioners (AREP).
The EPC Practitioner Skills Programme consists of online training, an in-person practical sessions to prepare for the workplace assignment over a period of 3 months. The Internship provides the required work experience component where an EPC process will be followed to get a building EPC ready under mentorship extended to the preparation through on-demand modules towards the in-person examination preparation for the international CEA examination. This programme is restricted to the KwaZulu-Natal region for 20 electrical engineering learners for both EPC-Prac-SP and CEA; for EPC-Prac-SP 5 mentors new to the energy industry, and 5 lecturers that meet the minimum criteria to lecture the program at their institution.
The internship includes a stipend of R4,950-00 per month less UIF for 24 months, and access to the On-Demand Energy Audit Technician course as preparation for the AEE's CEA examination preparation and international examination.
The Energy Performance Certificate for Buildings training programme which results in the EPC Practitioner QCTO registered certificate (SP-220323) for learners that pass is aligned to the EPC Regulation published in December 2022 which requires the mandatory display of EPCs by December 2022 for all building owners in certain building categories. The CEA Internship intends the strengthen the knowledge, skills and permanent employability of the Interns that enter the two-year programme so that they can contribute positively to the economy in South Africa through the energy industry which will in turn contribute to reduced carbon emissions.
Check your inbox to confirm your subscription